PHOTO AND STORY COURTESY WORLD ROWING
The 2023 World Rowing African Continental Olympic and Paralympic Qualification Regatta just concluded in Tunisia October 26. With twelve Olympic and three Paralympic spots up for grabs, racing was hotly contested on Lake Tunis.
In the men's single sculls, with five boats qualifying to the Paris Olympic Games, it was a race not to finish last. And unfortunately, in the men's single sculls A-Final, it was Ivory Coast's Riccardo Bouehi who missed out on a chance to punch his ticket to Paris.
The race was won by Egypt's Abdelkhalek Elbanna – repeating on his performance from 2019, where he also won the African Qualification Regatta, en route to the Tokyo Olympics. Behind him, Algeria's Sid Ali Boudina qualified for this third Olympic Games, and Mohamed Taieb (Tunisia) and Andre Matias (Angola), their second. The first-timer representing the African continent will be Stephen Cox from Zimbabwe.
The women's single sculls A-Final saw a great battle between Algeria's Nihed Benchadli and South Africa's Courtney Westley. While the race was won by the Algerian sculler, both easily qualified for the Paris Olympics – it will be the first Olympic experience for both athletes. One athlete that knows the big stage already – Kathleen Noble of Uganda, who was the first-ever rower to represent her country at Olympic level in Tokyo, will have a second chance at competing in the Olympics by finishing fourth in the A-Final.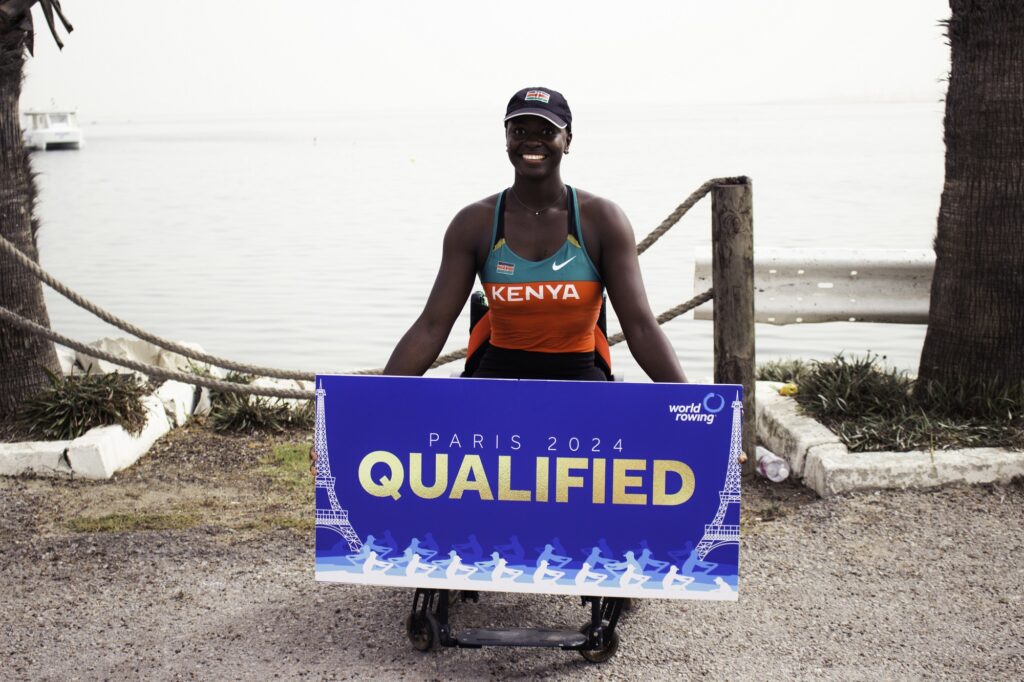 The lightweight women's double sculls was won by Tunisia, just three seconds ahead of Egypt, allowing Khadija Krimi and Selma Dhaouadi to secure a spot for Paris. The lightweight men's double sculls was also a tight race, with a reversed result – the quota place went to Mohamed Kota and Ahmed Abdelaal of Egypt, finishing ahead of Tunisia.
For quota places obtained at the African Continental Qualification Regatta, the NOCs that did not qualify a boat at the 2023 World Rowing Championships in Belgrade, were able to qualify a maximum of two boats for the Games based on highest ranking. As there were some NOCs that had two crews rank higher in the M1x, LM2x, LW2x this allowed Togo and Morocco in the women's single sculls to claim a spot in Paris. RSA was the only NOC that qualified a boat in Belgrade, therefore only able to qualify a maximum of one boat, unless two boats rank first. However, RSA only entered the W1x which qualified.
The final qualification spots are now to be confirmed by the respective NOCs, still being allocated according to the document here.
The PR1 women's single sculls was won by Asiya Mohamed Sururu of Kenya, qualifying for her second Paralympic Games. The PR1 men's single sculls went to Maher Rahmani of Tunisia, ahead of South Africa and Egypt. In the new Paralympic boat class – the PR3 mixed double sculls, the gold medal, and the quota place went to Ali Elzieny and Marwa Abdelaall of Egypt. All these athletes will be in Paris next summer for the Paralympics, pending confirmation of their respective NPCs – see full document here.
Tunis Lake also played host to the African Rowing Championships – where Hela Belhaje Mohamed of Tunisia, fresh off another World Rowing Beach Sprint Finals' title, won both the Under 19 women's single and double sculls.
Tunisia finished atop the medal table with nine gold medals and 20 overall, closely followed by Egypt (nine golds and 19 overall) and Algeria (four golds, 17 overall).
To continue reading…
Register for free to get limited access to the best reporting available.
Free accounts can read one story a month without paying.
Or subscribe to get unlimited access to the best reporting available.
To learn about group subscriptions, click here.
Already a subscriber? Login